A Look Back In Time
In February 2021 we celebrated our 65th anniversary. Here's a review of our first 65 years.
The Beginning
Tom Tomlinson, the first full-time head warden of the newly formed Peak District National Park and Fred Heardman, the landlord of the Old Nags Head public house in Edale, along with the national park's warden service and local volunteers, formed the nucleus of the Voluntary Warden Search and Rescue Organisation. The fire service, local outdoor centres and mountaineering clubs were also called upon where necessary to provide specialist skills or additional people as required.
Tom and Fred organised the first team exercise on the 19 February 1956.
In those days team volunteers were rallied to an incident using a rudimentary callout and transportation system that took account of the fact most of them did not have their own car or telephone.  A main contact in each major town would be notified of an incident via telephone, before alerting other volunteers in their neighbourhood.  Some members of the team would meet at a local pick-up point to be transported to the incident by road, whilst others would get there under their own steam on foot, by bicycle or on the train.
Team equipment consisted of just the stretcher and some basic first-aid equipment kept at the Nags Head.  The Peak Park Planning Board (PPPB) also provided six whistles.  Walkie-talkies were turned down, deemed as too cumbersome for use on the hill.
In 1959 the rescue post moved into the PPPB's newly constructed Fieldhead Information Centre, also in Edale.  The centre had an exhibition about the rescue team, complete with a stretcher.  However, being the only stretcher, it was also the same one that had to be removed from the exhibition every time it was needed for an incident.
Coming of age
The next milestone in the team's history was shared with all the teams in the area following the Four Inns Walk tragedy in the winter of 1964.  Three scouts participating in the challenge walk lost their lives to hypothermia despite the efforts of hundreds of people.  One was carried from the moor by the Glossop Rover Crew but hospital medics could not save him and two from a separate team died of hypothermia in the Alport.  The body of one was found on the Monday and the second body was found on the Tuesday.  This was the third fatal incident in three years and together they highlighted the need for a more coordinated approach to rescue across all the teams that had formed in the Peak District.  Within 12 months the Peak District Mountain Rescue Organisation was born.
What this meant for our team was that early in 1965 the PPPB officially recognised 'the establishment of a warden rescue service comprising of 30 part-time patrol wardens operating from the rescue centre maintained by PPPB at Fieldhead, Edale and whose activities will be supervised by the head warden'.
All daytime callouts were channelled through Fieldhead who would then contact the closest full-time warden.  The warden would make an initial assessment and then call out other resources as necessary.
Equipment and supplies
In the early 1970s wardens became rangers and the ranger station at North Lees beneath Stanage Edge was used to store some ropes and medical equipment, along with a stretcher. The equipment moved around over the years first to the Ranger Briefing Centre at Stoney Middleton and then to Brunt's Barn at Grindleford, in the mid-1970s. The equipment was fit for purpose but nowhere near the standard of that used by the team today.
At this point the team acquired a second stretcher.  Over the years the stretchers were stored in various strategically useful locations including Fieldhead, Stanage, Stoney Middleton, Brunt's Barn and Cottage Lane School near Sheffield.
By now the team's first lighting provision for night time operations had also been acquired in the form of miners' lamps.  Unfortunately leaking acid from the lamps' batteries would often cause damage to team members' kit.
Medical equipment was limited.  Team members would supplement the basic equipment by bringing their own medical kits or 'borrowing' supplies from attending ambulances.
New team headquarters
In 1986 the team moved to our current site at the cement works in Hope.  At the time the works were owned by Blue Circle Cement and they gave us the use of a lean-to which the team improved with two Portable Cabins donated by the NHS.  For the first time in our history all our equipment was stored in one place, slightly dusty but safe and dry, and we were extremely grateful.
In 1990 we were offered a redundant large garage space at the Cement Works which we turned into a store, meeting room and garage area. About a year later this became the home to the teams first vehicle, an ex British Telecom Ford Transit van, affectionately known as the 'Custard Bus' due to the bright yellow colour favoured by British Telecom at the time. The vehicle was rigged out to transport all of the team's equipment including the stretcher.  Up to this point the team had relied on team members using their own transport and Rangers using the PDNP Land Rovers.  A second vehicle, a Land Rover, was donated by Seven Trent Water in 1994.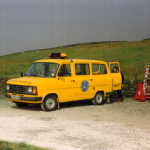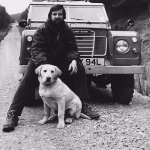 In 2007 the cement works – now owned by Lafarge – kindly offered the team bigger premises.  After much hard work by team members on the design and fitting out and Lafarge on the design and construction of the internal structural frame and building work we moved into three bays of the existing commercial vehicle garage on site which had been converted into a bespoke mountain rescue team base.  A huge improvement on our previous base which had occupied part of one bay of the same commercial vehicle garage at the opposite end of the building.
The new premises included a three bay vehicle garage with space for racking and a workshop and a two storey rope rescue training facility. On the same level behind the garage and rope rescue facility there is an entrance hall and stairwell, toilets and showers, a crew room, washing facility for team kit and a drying room along with separate store rooms for medical supplies, rescue equipment and fundraising equipment.  On the first floor there is a large meeting room than can be subdivided into two rooms with a sliding partition which includes a roller shutter door into the rope rescue training facility so a crag top lower can be simulated plus a meeting room, an office and a control room equipped with radios, computers and a massive wall mounted computer screen on which a digital map of the area can be displayed.
The new base was officially opened in October 2007 by the Lord Lieutenant of Derbyshire Mr John Bather.
The team today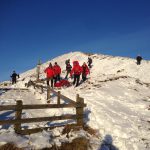 Since the beginning the team has pushed for continual improvement and the dedication, enthusiasm and skill of its members has made this happen.  We have seen the introduction of uniforms, vehicles and rigorous medical training required for all team members who undergo continuous intense training in trauma and medical scenarios.  Each team member goes through practical and written exams every two years to maintain their Mountain Rescue Casualty Care certificate.  We train twice a month covering all the required skills each year to prevent skill fade.  This includes training in search skills, crag rescue, stretcher handling, steep ground rescue, navigation, communications, casualty handling and treatment.
We respond to an average of 120 callouts per year and and are one of the busiest and oldest teams in England and Wales.
Our callouts range from fallen climbers, horse riders, mountain and road cyclists, to lost and vulnerable people, gliders, hang gliders and para gliders, plus snow emergencies in all our surrounding villages and the suburbs of the towns and cities, including Sheffield and Chesterfield, as well as water incidents like the 2019 Toddbrook Reservoir Whaley Bridge dam drama.  In fact, wherever an ambulance cannot reach you, we will get to you, treat you, and bring you back to safety and care.
We respond directly for South Yorkshire Police and Derbyshire Constabulary along with East Midlands Ambulance Service and South Yorkshire Ambulance Service.  This is quite unique for a Mountain Rescue Team, where we are on call for two different counties.
Today, with five team vehicles, extensive professional equipment, an instant callout system and our own communications network, we are a long way from our beginnings in 1956.
Our equipment takes a lot of looking after and is checked twice a month under controlled conditions.  After each bag is checked it is sealed and signed off to show it is ready to deploy on a job if needed.  Every 6 months on a Sunday morning each and every bag is stripped down and each bit of kit is checked, which is quite a chore.  The Team Leader usually keeps the troops fed with bacon butties as he knows the way to a volunteer's heart!
All vehicles are given a pre-drive check and a weekly check and undergo a 6-monthly MOT and service so they should not let us down.
To enable us to make safe progress through traffic all our blue light response drivers undergo a ROSPA driving course and must achieve gold standard before they are considered to progress to a blue light response driver course.  We are very conscious of livestock when travelling on our 'blues and twos' and where necessary turn these off so as not to spook any animals.  You may see a team suddenly turn all the blue lights and sirens off.  This could mean a couple of things have happened; either we have been told by the lead vehicle that has arrived at an incident the situation is not as serious as first thought and to continue on Code White (no blues and twos), or we have been stood down en-route.
There are around 55 team members, which includes approximately 8 aspirants going through the training programme, at any one time.  Training takes on average 18-24 months.  While we have come a long way since those early days one thing has never changed. All our current team members, aspirants and supporters show the same dedication and teamwork as all the volunteers throughout the years who have given their time to rescue others in distress on the hill.
As you have probably gathered it takes a massive commitment to become a team member and to maintain team member status, which can put a lot of strain on relationships and family life.  Without understanding partners and families none of us could do what we do.
None of the Mountain Rescue Teams in England and Wales get any government funding.  As such we are very proactive with fundraising and we rely solely on our wonderful supporters' kind donations which come from many different sources, including talks we do, street collections, outdoor clubs, schools, Scouts and Air Cadet visits.  Sometimes someone also remembers us in their will for whatever reason, and it is always quite humbling and very heart warming to know that we have touched someone's life to be remembered in this way.
Safety on the hills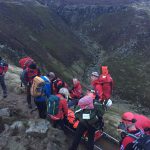 In these modern days of apps on mobile devices, people can and do rely solely on this method of navigation and communication.  However, phone and data signals can be very poor or non-existent in the hills and deep valleys of the Peak District, and never underestimate the dangers of Kinder Scout and Bleaklow.  These places have claimed the lives of numerous people over the years.
For example, we get people coming up to us while we are fundraising in Edale with their phones asking us about the best route, and when we look at their phone they are using Google maps.  While that is a great application for road navigating, it is not designed for use off road!
We urge and encourage everyone to get some navigational skills.  Even basic skills could get you out of a tricky situation.  Once you learn the skills you will be surprised how much fun it can be and it will help you discover many beautiful places.  Keep the apps as a tool in a tool box, but not as your main source of navigation.
Enjoy the great outdoors, come to the unique Peak District, visit the villages as well as the high tops, but most of all don't ruin your visit by not keeping safe.
If you do find yourself needing the help of Mountain Rescue, and if you have a telephone signal, call 999 and ask for Police and then Mountain Rescue.  Be prepared to give them your location if you know it, the injured or lost party's details, and how many are in the group.  If your battery is going flat then only use it to communicate with the emergency services, as Mountain Rescue will attempt to send you a link which will help pinpoint your position.
Finally…
Our team members are on call, day and night, 365 days a year, to help those in need on the hills.  All are volunteers. We are a registered charity and we rely solely on donations to fund our work. We receive no government funding.
If you would like to make a donation to support our work, please click the button below to visit our Just Giving page. The money we receive is used solely to fund the operation of the team and secure its future. Every donation, no matter how small, is greatly appreciated.
Thank you.
If you require assistance from Mountain Rescue:
Ask for Police & Mountain Rescue
Give the operator the exact location of the incident, the nature of any injuries, the number of casualties and your phone number
Stay near your telephone and stay put until told otherwise